Registration in the Russian Science Citation Index (RSCI)
Registration in the Russian Science Citation Index (RSCI)
We strongly recommend that all our authors register in the RSCI, thus, the authors can control the list of their publications, not only in our journal, but also in all the journals included in the RSCI. Registration in the system will also allow you to find out your own scientific citation index.
1. To register in the system, follow the link: Science Index.
2. Complete in all the fields and click the checkbox "Register me as an author in the Science Index system (Зарегистрировать меня как автора в системе Science Index)".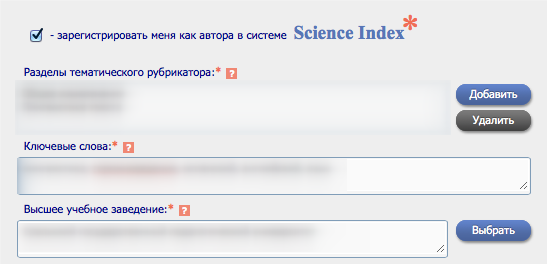 3. In the Journals field, type the original titles of the journals in which you have published, for example, Международный научно-исследовательский журнал.

4. Click save. After that, an email with a link to confirm your profile will be sent to your email address, and a little later, you will recieve a second email with an identification code (SPIN code). Only after receiving this code, you will be able to see and add your publications.
5. You can read about how to search for and add publications to the list of your publications on the RSCI website (in Russian): https://elibrary.ru/projects/science_index/author_tutorial.asp